Bendable Smartphone
Moxi Group, a small startup based in Chongqing, China is hoping to upset current smartphone technologies with their release of the first bendable smartphone. This year Moxi hopes to disrupt the Android and iPhone markets by shipping around 100,000 units of their new flexible technology.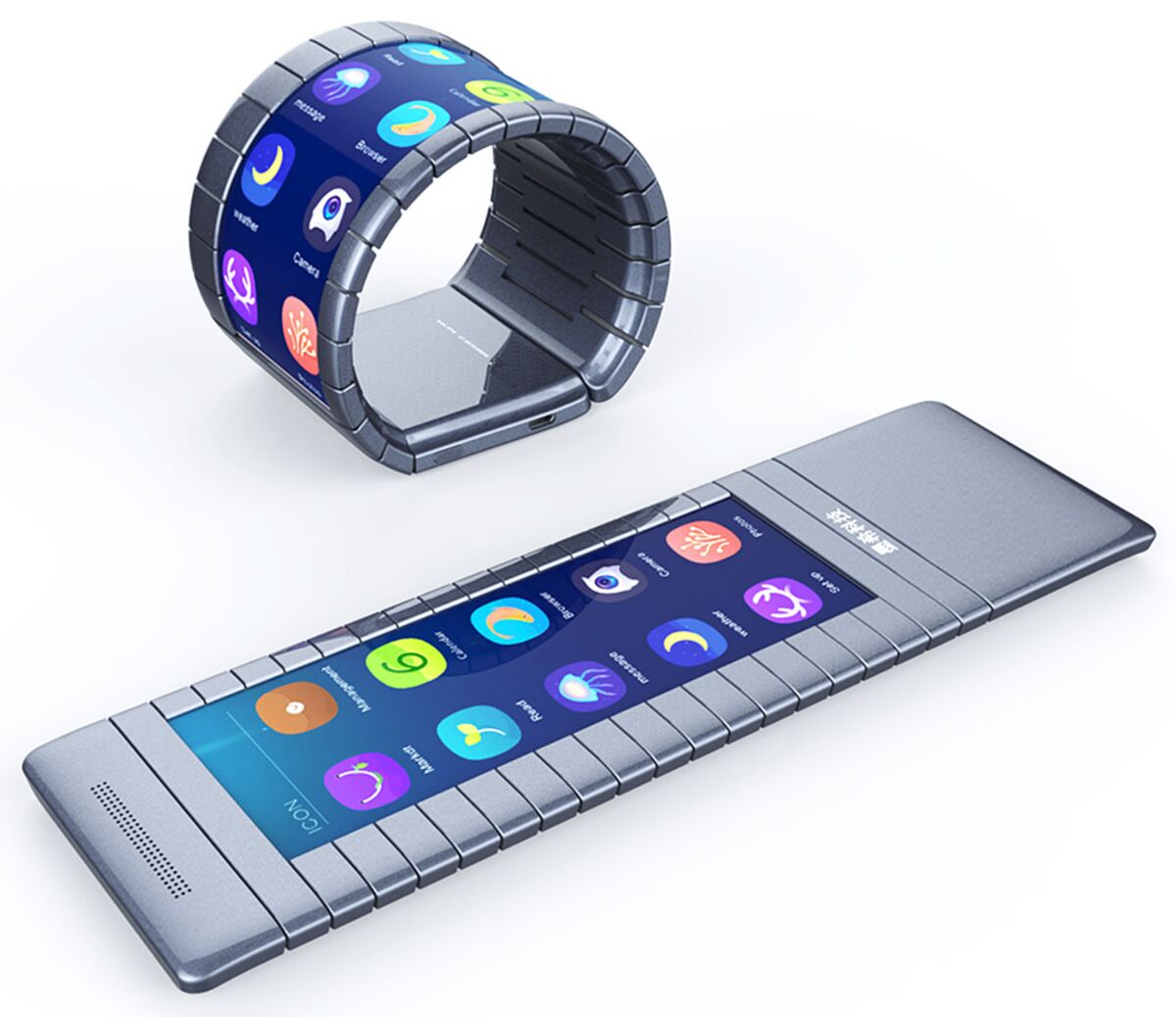 Current shortcomings
The ability to bend and reshape the screens of smartphones has long been shown in science fiction shows and movies. These new devices can double as a smartphone or a watch, as they can wrap around a user's wrist, then can be removed and unrolled into a phone. As our current smartphone technology has trended towards lighter materials, there has been a rash of broken and bent phones.
The trade-off for weight has caused newer smartphones to be made with weaker materials, this caused a series of complaints after users have broken their phones, by sitting down with the phone in their back pocket.
Bendable Smartwatches
The initial wave of smartwatch-phones is planned to only a feature black and white display, with a color version planned for the future. This still gives Moxi the rights to brag about knowing they beat out other smartphone manufacturers being the first to release these bendable products. The executive vice president of Moxi, Chongsheng Yu, commented:
Black and white phones are much easier to make. The color model power usage is also much higher than that of the black and white unit. We'll sell in China and if there's demand overseas, we'll look into it.
Moxi said that they based their wobbly bendable screen design off of graphene technology. In graphene carbon atoms are arranged in a specific pattern, which allows the material to be much more resilient. Additionally, Moxi located the primary components, battery and processor in a single location, instead of behind the flexible screen. This allows the display to flex a great deal more, almost into a full circle!
Researchers are hoping that Moxi's researchers have created a much better screen than previous technologies. Roel Vertegaal, the director of the Human Media Lab at Queen's University in Canada commented about his reservations on the technology:
If they're using flexible e-ink then it's a real loser, it was the only flexible technology we could get, but the colors are poor, the contrasts are poor and you can't play videos on it.
Past Comparisons
The Media Lab showed off their own prototype of a bendable phone using that same e-ink technology five years ago. Chongsheng Yu said that their bendable phone is based on e-ink, also used in Amazon's Kindles, but offers a superior product than previously seen, due to Moxi's better touchscreen capabilities.
Moxi, officially Chongqing Graphene Tech Co., has the desire to create a new hit product for the smartphone industry. Moxi is hoping to boost phone sales, in a market has been starting to slow. Smartphone sales, in the $423 billion industry, declined for the first time ever in the first three months of this 2016, according to Strategy Analytics.
A fully functional bendable phone will create a new massive market as a disruptive innovation. If one were to release commercially, would be both a huge technological innovation and disruption to the current smartphone manufacturers. Over the next few months, you should keep your eyes out for the first prototypes of Moxi's products. Hopefully they will be commercially available this year; however, if they only have a low-resolution black and white screen, then it may not be a commercial success.